---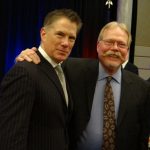 Mike Baker and Don Bradway
With the recurring theme 'Making America Great Again Begins in Idaho,' the Kootenai County GOP's annual Lincoln Day Dinner was a great success especially when you consider the large turnout was on a Friday night during Lent and many of our legislators were still in Boise, stated event chairman Don Bradway.
Central Committee Chairman Brent Regan started things off with a little humor asking the question, "You know what the difference between Vladimir Putin and Hillary Clinton is don't you? Vladimir Putin can actually win an election that is fixed in his favor." That is really funny given the severity of the fix that was in for Hillary.
SOME INSIGHTFUL 'BRENT BITS'
Regan then said, "Life teaches us lessons all the time. If you're smart enough and humble enough you learn. You learn that the ticket to success is honesty and hard work. You learn that American exceptionalism is built on individual responsibility. You learn that the best way to protect our rights is to protect the rights of our fellow citizens. Especially that most fundamental of rights, the right to exist.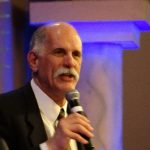 Brent Regan
"We learn to respect our founding documents and the men that adopted them and the God whose hand of Providence guided them and protects us all. We learn that the freedoms we enjoy are fragile and defending them requires dedication on all our parts. And one thing that I've learned and we're learning it here tonight is there is a happy coincidence that people that have gone through life and been successful and learn the lessons, find out that there are other people like them. That there are other people who have the same understanding, the same truths, the same beliefs.
"All that's what we're doing here tonight. We're celebrating that and were celebrating our nation. We are here to enjoy each other's company to be revitalized by the companionship of each other so that when we walk out of here we will be inspired."
ACCOLADES FOR THE REMARKABLE STEM ACADEMY
Regan reminded everyone that at last year's dinner some students from Rathdrum's STEM Charter Academy announced, quite remarkably, that they secured a launch slot for a satellite, the only high school to ever do so in the U.S.
STEM Academy's project coordinator Jessica Millard introduced her STEM team members and then mentioned that at last year's dinner they raised a hundred thousand dollars and confirmed that they are in fact launching a satellite with NASA. She announced proudly they have built a satellite with that money from start to finish and will be handing it off on April 11th to Rocket Lab to be launched at the end of May just days before the first graduating class from STEM Academy walks the stage to graduate from high school.
She then stated, "We worked with over 30 different educators in three different countries to light up minds around the world and inspire kids to pursue STEM careers. We look forward to continuing to work with community members like yourselves, and thank you for helping us to make space great again."
She went on to say that since the ground station is costing a considerable amount of money they will once again appreciate some help with funding and encouraged following them on their website and through social media with consideration of helping them so they can continue connecting with others around the world with this satellite.
Regan pointed out that if we want exceptional students like this we have to encourage them when they do exceptional things. He said, "You can't do a thing unless you first imagine it, right? So you have to have bold imagination to go forward and the students don't get support from the state." Regan then presented STEM Academy a check for their ground station from his design company for $5000 to help them get started.
In addition to the accomplishments of this most impressive program, STEM CHARTER ACADEMY, in 2017, produced the highest SAT scores in the state of Idaho. Check out their impressive YouTube video here. It appears public schools could learn a lot from STEM Charter Academy.
RAUL LABRADOR PAYS TRIBUTE TO JOHN & ANGELA CROSS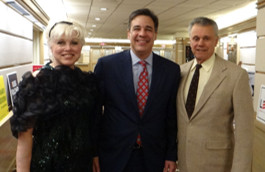 Rep. Raúl Labrador with John and Angela Cross
U.S. Congressman Raul Labrador let everyone in attendance know from the bottom of his heart his deep felt appreciation for his 'inspection' and subsequent approval by John and Angela Cross when he was seeking endorsements in his first election. He said they were very cautious in their interview of him and grilled him for 45 minutes. Once they were on board with him he said he has had no finer supporters.
He asserted, "John and Angela have been as much a part of my political career as anyone. They are some of my dearest friends, they have been really the most loyal friends and supporters anyone could ask for. In fact when things were looking bleak in my first political race in 2010 they were some of the only ones that believed in me. Through thick and thin they have always been there."
He further stated that their loyalty to the Republican Party reaches far beyond him. He said that most in attendance know who John and Angela are, but few know how much they have given to the party over the last 20 years. "John evolved into the region chair where he has now served for over a decade and Angela around 2012 became the legislative party chair. For years they were in charge of organizing this dinner and for years they have served the people of Kootenai County, the people of Idaho and the people of the Republican Party well."
It was clear that the Crosses will be missed by all who have known them as they enter a new chapter in their lives in Surprise, Arizona.
Committeewoman Jennifer Locke presented John and Angela with a plaque commemorating their years of dedicated service to the local committee and the GOP.
"WE MUST BE FOCUSED AND ENGAGED" – MIKE BAKER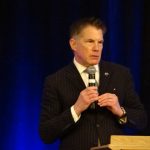 Mike Baker
Keynote speaker for the event was former CIA agent and Fox News contributor Mike Baker who happens to also be an Idaho citizen in southern Idaho.
Baker's opening remarks mentioned that Lincoln had a way with words and one of his favorite quotes of President Lincoln's made some 160 years ago is "I am a firm believer in the people. If given the truth, they can be depended upon to meet any national crisis. The great point is to bring them the real facts." He then said, "See, even all those years ago, we had a President worrying about fake news. Bring them the 'real facts' … that's Lincoln's advice."
He stressed the point that we should not limit ourselves on one source of news and information. "Even if it's frustrating… Even if it makes you want to bang your head against the wall, read and listen to sources that you don't agree with… Understand fully what the other side is saying, how they phrase an argument, what they consider truth. If you don't, you can't fully and properly defend your own positions…"
Other topics covered in his vigorous speech included the Russian collusion debacle, problems with China, North Korea, the successful appointment of Supreme Court Justice Neal Gorsuch and our economy.
TRUMP TRIUMPHS HIGHLIGHTED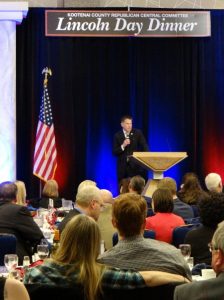 Baker proudly reported, "Trump's policies have fueled historic levels of optimism among consumers and businesses. Optimism in the economy drives spending, and that further drives the economy… producing growth and jobs. Business investment rose 4.7% in 2017, according to the Bureau of Economic Analysis, a big jump from the year before when business investment was flat."
Other reasons cited for the improved sentiment and business investments is the Trump administration's focused attack on overregulation, keeping his word by reducing the amount of red tape in Washington and then adding the first overhaul to the US tax code in 31 years, without the help of a single Democrat, monumentally slashing rates for corporations from 35%to 21% while providing benefits to individuals, not just the wealthy, as the left would have you believe, and then repealing the individual mandate in ObamaCare.
He went on to report that Trump's leadership has decimated ISIS down to a count of approximately 1,000 militants after losing 98% of the territory they once held. He pointed out, "It's important to understand that, while the crushing of the physical caliphate held by ISIS was crucial, it does not mean the end of Islamic extremism. Elements of Al Qaeda, Boko Haram, the Taliban, al Shabab and others continue to pursue their jihad against the West and non-believers."
President Trump committed his administration to ensuring a robust military budget that will rebuild and maintain resources and personnel needs that for too many years have gone wanting while also shoring up the financial commitments of our NATO partners' responsibilities. He stated, "It took an outsider, and admittedly unconventional businessman to find the nerve to make that entirely reasonable demand.
PERSONAL COMMITMENTS ARE NECESSARY
"In 7 months, all 435 House seats and one-third of the Senate seats will be on the ballot. History is not on our side. Since the end of World War II the party in control of the White House has on average had a net loss of 26 House seats in mid-term elections. This year Democrats can win control of the house with a net gain of 24 seats in November. They need to win two seats to gain a majority in the Senate."
Baker wrapped up his comments acknowledging that with President Trump's many successes it is easy to get complacent as an energized and motivated Democratic Party drives a narrative of an inevitable midterm victory.
Or, as he said, "We can be focused and engaged. We can do everything possible to participate in the process to get out and motivate others. The fact that you're here tonight means that you are already engaged. That means you have a responsibility. If you like the economic process, the reassertion of America on the world stage and the sense of optimism in our future you have a responsibility to participate to convince others to participate. Without a record turnout in November, there is every chance that Ms. Pelosi or one of her cohorts will be in charge of the House. Now, we have to be realistic, it's an uphill battle.
"That means it's up to all of us to participate in the process, to do so with civility and respect for all sides and to do everything possible to expand the GOP's reach and relevance.
"Ladies and gentlemen, I've spent most of my life overseas, and I know without a doubt, we live in the greatest country on this planet. But we can't take that for granted. Ensuring our strength, our financial health, and freedoms and liberties takes vision. It takes a belief in the strength, individual responsibility, and character of people. That is our Republican advantage.
"The Democrats believe in the strength of government. They believe in the power of regulation, in the need to oversee and manage a population that they spend their time dividing and splintering for political gain. At the end of the day, Democrats lack faith in the ability of each person, regardless of race, background or beliefs, to reach their potential without the help of big government. Give people the real facts and they can meet any challenge. Lincoln knew better.
"Your job over the next seven months is to help spread the word, help motivate and give people the real facts. If we do that, if we all participate, come November we'll all be able to keep this great country of ours moving in the right direction.
"Thank you and God bless America."
Don't use Facebook? More commenting options below (scroll down)
---
---