As a columnist for the Idaho State Journal, I am given a pretty free hand with regard to what I write. There is one unwritten rule that often shackles me. Generally, the other columnists are off limits. Last Sunday, Michael O'Donnell ignored that rule and had a go at me.
O'Donnell attempted to discredit my column about Kelley Packer's assault on Dr. Jason West, of Pocatello. He wants you to take your eye off the ball. So, he suggested that my column was a blind attack rather than a carefully researched paper. Let me be clear, the column was researched and written by me, approved by Dr. Jason West, and vetted by the editor, publisher and attorney of the Idaho State Journal.
O'Donnell wants you to believe that I am only driven by vendetta because I lost against Kelley Packer in a race for the legislature. If that is true, then why have I also held many others including Guthrie, Andrus and Crapo accountable for bone headed acts of political idiocy?
I will deal with O'Donnell later, but first, the Packer story continues to develop. An ugly pattern is emerging. The people of District 28 in particular and of Idaho in general need to know and have a right to know.
West testified that he had been threatened by a Legislator with the loss of his credentials if he spoke before the Senate Health and Welfare Committee. West later affirmed, to me, that it was Representative Kelley Packer who made that threat. He also made that same affirmation to those who vetted the story at the Idaho State Journal.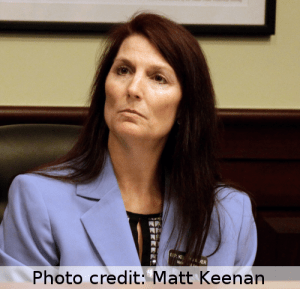 In reference to my column, Packer accused me, on her Facebook page, of being untruthful and malicious. In response, I contacted her and asked for a meeting where she will have an opportunity to address those items that she believes I were untruthful and/or unverified.
In reply she stated, "I am contacting law enforcement and the AGs office, because I feel threatened by your manner".
Packer also wrote the following, which clearly illustrates her character. "I've tried to talk with you in the past, but you refuse to be reasonable. You only want to argue. That is why I no longer return your calls, messages or emails".
I think it is important to point out that Packer and I have only spoken face to face once. This was at the Reagan Lincoln dinner shortly after I entered the race for the Legislature. We met, exchanged pleasantries and disengaged. It was a bit like boxers touching gloves and returning to neutral corners. Since that time, I have left voicemail and email messages on a number of occasions regarding legislative issues. Packer has never responded to a communication from me and never initiated contact herself. In other words, her statement is a blatant and intentional lie. The entirety of our communication is limited to a single "nice to meet you" formality.
The first amendment of the United States Constitution states,
Congress shall make no law respecting an establishment of religion, or prohibiting the free exercise thereof; or abridging the freedom of speech, or of the press; or the right of the people peaceably to assemble, and to petition the Government for a redress of grievances.
In the clear light of this Constitutional Amendment, let us examine Packer's actions.
According to Jason West, Packer used her power in an attempt to force him to relinquish his Constitutionally guaranteed rights of freedom of speech and to petition the Government for a redress of his grievances.
In my case, Packer has used her influence in an attempt to prevent me from holding her accountable, as my duty demands. She has threatened me with the full force and power of government, the Attorney General and Law Enforcement Agencies. And this, in a corrupt and unconstitutional effort to compel my silence, capitulation and to demand utter servitude.
Can you imagine our Nation after the First Amendment has been repealed and government can act against the people with impunity and disregard? Apparently, Packer can and she likes the stink of it!
If these abuses are allowed to go unanswered, our form of government will cease to exist. You see, our Government was designed and is authorized to act only with the consent of the Governed. The emerging trend is for the people to be harshly punished if they act without the consent and blessing of the governing elite.
To Representative Packer and others who have lost their way, you will be held accountable. I will not cease in my demands for Constitutional justification of every action taken and every vote cast. I will not allow you to hide in your hole or push me away. Where you go, I will be. I too, am sworn to defend the Constitution. Unlike many, I honor that oath.
I may be knocked down; I may fall down, but I will never lay down… nor will I stay down. I will rise up, I will stand up, I will step up, and I will speak up. I will raise my voice and my fist in open defiance. If necessary, I will raise my arm in open and forceful rebellion in the defense of liberty and for the cause of freedom.
Now, Mike O'Donnell, I challenge you to a duel. Constitutions at ten paces. The weapons shall be the Declaration of Independence, the Constitution of the United States and the Bill of Rights. I will record the duel for an episode of my Podcast. We will duel over the First Amendment and Packer's right to act as described above. We will duel over Government's Constitutional authority to regulate my health care choices. I will come alone. You sir, may bring a second in the person of Representative Kelley Packer. You may both fire simultaneously. I will withstand your onslaught and confound you with the simple logic of our founding documents.
Just name the place and time.
See more here.