— Published with Permission of NationalObserver.com —
A disappointed Prime Minister Justin Trudeau said Wednesday that he was planning an intervention after learning that Ontario premier-designate Doug Ford was withdrawing from a national climate change plan.
"On the environment, the premier-designate has notified us that he intends to withdraw from the national climate plan," Trudeau told reporters at a news conference marking the end of the parliamentary session in Ottawa on Wednesday.
"This is obviously unfortunate, we would rather he not do that, but since he's notified (us) that he's withdrawing from the national climate change plan, we need to continue to ensure that we move forward on both growing the economy and protecting the environment at the same time."
The federal government had not previously planned to intervene in Ontario, as it had said it would have accepted the outgoing Liberal provincial government's plan to price pollution using a cap and trade system.
Trudeau's pan-Canadian climate change framework was a 52-page roadmap, signed in December 2016 with provincial and territorial leaders as part of efforts to achieve Canada's international commitments under the Paris agreement to achieve a 30 percent reduction in annual greenhouse gas emissions below 2005 levels by 2030.
All political parties in the House of Commons have agreed to this target as a minimum goal. Conservatives have said they disagree with requiring polluters to pay for emissions, but have not proposed any alternative solution.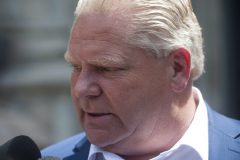 Ontario premier-designate Doug Ford
Ontario premier-designate Doug Ford, who has announced he will abandon the province's cap and trade program to price pollution once in office, speaks to media on June 10, 2018. File photo by The Canadian Press
The national framework from 2016 also includes new building codes to reduce energy consumption in homes and businesses, additional electric charging stations in support of zero-emission vehicles, as well as policies to reduce pollution from government operations.
Although Ford has not explicitly spoken about the entire pan-Canadian strategy, Trudeau's office said that the prime minister has taken the premier-designate's stated intent to kill cap and trade as evidence enough that he will abandon the framework too.
Having its cap and trade system in place was the only way that Ontario, Canada's most populous province, planned to contribute to meeting the national carbon pollution reduction target, the prime minister's office said.
The notice from Ford would undo a commitment made by outgoing Premier Kathleen Wynne who signed on to the national strategy in 2016, noting, at that time, that it supported the province's "transition to a low-carbon economy by encouraging innovation and helping us maintain our competitiveness."
Ford has also said he intends to fight Trudeau's efforts to impose a nationwide price on carbon, joining like-minded right-leaning conservative leaders such as Saskatchewan Premier Scott Moe and United Conservative Party Leader Jason Kenney in Alberta.
A 'federal backstop'
At his news conference in Ottawa, Trudeau indicated he wouldn't be stopped by the opposition to his plan from conservative politicians.
"As I've said many times, we're going to ensure that monies collected in any jurisdiction are returned to the citizens of that jurisdiction," Trudeau said.
"And I will highlight that the legislation we just passed, allows us in cases of using the federal backstop to directly return monies collected in Ontario to Ontarians. And that is certainly our intention to do that, unless provinces like British Columbia, for example, move forward with their own sufficiently ambitious plan — which B.C. has had for a long time — to meet our climate targets."
Prime Minister Justin Trudeau faces the national press gallery in Ottawa during a news conference on June 20, 2018. National Observer Facebook video
Ford's rejection of the plan came after a week in which the provincial Progressive Conservative leader had announced Ontario was abandoning a joint cap and trade market with Quebec and California, designed to stimulate green jobs and growth, while discouraging business activity that contributes to climate change.
This was followed by an announcement that Ontario was also shutting down a provincial green fund offering rebates and other incentives to encourage green renovations and savings on home energy bills.
But Trudeau also said he was committed to working collaboratively with all premiers, including Ford, to make life better for Canadians.
His disagreement with Ford comes as Canada faces a looming trade war with U.S. President Donald Trump's administration, that has threatened to impose tariffs on Canadian-made steel and aluminum.
Trudeau said he plans to continue fighting for Canadian jobs, also encouraging the population to "buy Canadian" products and take vacations at home.
He also noted that many Canadians depend on the success of the auto industry, another target recently mentioned by Trump, but that he would continue to stand up for Canada's interests.
When asked to comment on the president's recent personal attacks posted on Twitter, Trudeau said that Trump "prides himself on a certain degree of unpredictability."
"I'm not in a position to opine on motivations of the president," Trudeau added.