Sandpoint has existed on an important point of the Pacific Northwest's rail network for years. With a proposed influx of private investment, Sandpoint will become an even more important contributor to trade along the region's rail system – all to the benefit of the local community.
BNSF has proposed constructing a second rail bridge over Lake Pend Oreille. This project would vastly improve the flow of trade in the region, which benefits local industries and consumers everywhere. Industries such as agriculture, manufacturing, timber and many others rely on efficient rail routes to deliver goods to market.
With such an important role to play in the economy, the condition of the Pacific Northwest's rail network must be a top priority. Chokepoints, exactly like the one at Lake Pend Oreille, are issues that should be resolved – especially when it is possible to do so with private funds.
Complementing the regional and national benefits are perks for the town of Sandpoint itself. As the rail bridge over Lake Pend Oreille currently stands, only one train can cross the water at a time despite the fact that traffic from both directions regularly need to pass. As a result, trains must commonly come to a complete stop and idle until the bridge is free to cross.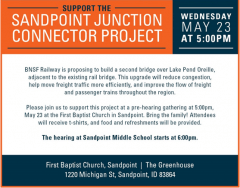 These stops cause back-ups and delays not only on the area's rail lines, but also on local streets. Roads that cross rail tracks are heavily affected, and delays can extend for many miles into neighboring Washington and Montana. BNSF's proposed rail bridge, however, would alleviate traffic congestion and free up the community's roads.
Sandpoint's neighborhoods would immediately feel the benefits of the second rail bridge. In addition to improved road conditions, the reduction in train stoppings would mean less noise in the community.
The proposed rail bridge it not only an investment into the regional rail network; it is also an investment into the Sandpoint community.
To RSVP for the prehearing event please respond to KeepSandpointRolling@gmail.com