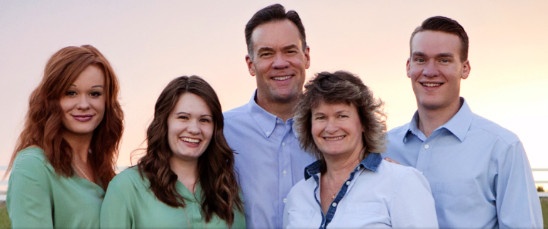 Candidate for U.S. Representative for Idaho's 1st Congressional District, Russ Fulcher and his family.
— From the Russ Fulcher campaign committee —
Russ Fulcher meetings scheduled in North Idaho week of 1-21-2018:
For anyone that would like to meet Russ Fulcher, here is a list of his activities in our area. This is a good opportunity to come ask those hard questions you want answers to.
Please take advantage of these events.
Russ Fulcher for Congress Public Events:
Monday, Jan 22, 2018
Tango Café, 414 Church St, Sandpoint, ID
Sandpoint center
9:30 AM
Tuesday, Jan 23, 2018
Town Hall
North Idaho STEM Charter Academy
15633 N Meyer Rd, Rathdrum, ID 83858
5:00 to 6:30 PM
Sunday, Jan 28, 2018
Forum at the Cd'A Library
702 E. Front Ave, Coeur d'Alene, ID
1:00 PM
I believe the forum includes everyone running for Congress in our district.
Here are the names of those on the brochure, Left to Right:
Nick Henderson, Russ Fulcher, Luke Malek, David Leroy, Michael Snyder, and Christy Perry.
This will be a great opportunity to compare candidates.
Feel free to share these events with others.
The Sandpoint meeting is at the Tango Café which is in the Columbia Bank Building on Fifth Ave and Church Street, at 9:30 AM to about 11 AM. There is also a Meet and Greet in Sagle on Monday. Here is that information:
On Monday, Dennis and I will be hosting a meet and greet for Russ Fulcher at our home. Mr. Fulcher is running for Idaho's 1st Congressional seat, which is being vacated by gubernatorial candidate Raul Labrador. I hope you can take advantage of this opportunity to speak with Mr. Fulcher and hear his positions on matters concerning Idaho and our nation. Please bring your spouse or a guest, refreshments will be served.
Please RSVP (208) 290-3590. — Dana Englehardt
Hope you can make one of these events and please pass along the information! Thanks, Victoria
www.drz.org
866-453-2021
Office and Shipping Manager
Scenes from fundraiser in Coeur d'Alene on Saturday, Jan. 20th
(Click the photos to enlarge)