National elites in climate research, philanthropy, activism, and the private sector joined elected officials in Denver last week at the posh Four Seasons, a five-star high-rise hotel to strategize how to carry on a climate agenda without taxpayer dollars.
Former U.S. Environmental Protection Agency Administrator Gina McCarthy led a 'Who's Who' of former administration policy advisers, climate activists, state regulators, politicians, and company officials through the three-day Climate Leadership Conference covering climate-related talks on collaboration between governments at all levels, various climate initiatives including the Paris agreement, and technological development.
Among those presenting were representatives of new state government outsourcing schemes, where philanthropy-backed legal fellows and policy wonks are placed with state attorneys general and governors' policy shops to promote a climate agenda.
For the first time, the conference would not be on the taxpayers' dime.
The conference's primary sponsor in 2018 was Bloomberg Philanthropies. After seven years, the EPA announced it would not be the event's headline sponsor this year, as it had been under McCarthy's administration.
"The Agency has decided to discontinue the U.S. Environmental Protection Agency's (EPA) involvement with the 2018 Climate Leadership Awards program. This includes canceling the 2018 Climate Leadership Awards as well as EPA's sponsorship of the Climate Leadership Conference," the EPA wrote.
The Adversarial Approach: Underwriting Legal Fellows
Even without the federal agency's support, the conference didn't skip a beat with its new, deep-pocketed sponsor.
"This year we are pleased to welcome Bloomberg Philanthropies as Headline Sponsor. Their support ensures that cities, states, and companies retain an important platform for climate action, and that we can continue to advance America's Pledge, an initiative co-chaired by Michael R. Bloomberg and California Governor Jerry Brown that aims to aggregate and showcase the collective momentum of non-federal U.S. climate action," the event's co-hosts, the Center for Climate and Energy Solutions (C2ES) and The Climate Registry, wrote in their welcome.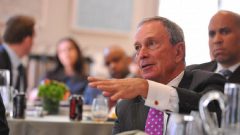 The focus of "America's Pledge" is on the "actions of states, cities, businesses, and other non-national actors in the United States" that commit to "the goals of the Paris Agreement."
One of those "platforms" used to meet those goals is a new law fellowship aimed at pushing climate initiatives through friendly state attorney general offices.
David Hayes, Executive Director of the State Energy and Environmental Impact Center at New York University School of Law, spoke at the Denver conference on a panel for "Building Momentum for Climate Action."
"Let me talk about state AGs . . . there is a tendency to think of state attorneys general as, 'whoa, I don't know if we're ready to talk to them,'" Hayes said at the conference. "Those guys are the law enforcement folks."
"When it comes to climate change and clean energy, they are enforcing the law in the way that I think all of us in this room want them to—at least the progressive AGs," Hayes said.
"The AGs have been busy. Consistent with the theme of this conference, there has been a lot of activity at the state level," Hayes continued, particularly states versus the federal government.
The focus of those battles is the new administration.
"There are two big buckets . . . one is defense, and that's been a big part of the last 13 months. Because as we all know President Trump has looked to dismantle climate-related initiatives on a number of levels. Also, the administration has shown an obvious and concerning bias toward fossil fuels," Hayes said.
"AGs have been a very strong line of defense in all these matters," he said. Hayes pointed to New York Attorney General Eric Schneiderman's leadership, and lawsuits such as those targeting the administration's rescission of the Bureau of Land Management's hydraulic fracturing rule.
Hayes served as Interior Department deputy secretary under the Obama and Clinton administrations.
Last August, NYU's School of Law launched its new State Energy and Environmental Impact Center under Hayes' leadership with a mission to provide law fellows to state attorney general offices courtesy of a $6 million grant from Bloomberg Philanthropies, named for the billionaire and former New York City mayor.
As Western Wire reported, in October New Mexico's attorney general office was among the first seven to receive NYU Law fellows, alongside Illinois, Maryland, Massachusetts, New York, Washington, and Washington, D.C., members of the 'Green 20′ group of attorneys general. Pennsylvania, Oregon, and Virginia were added in December. At least 14 fellows have been placed through the fellowship program.
The fellows–"special assistant attorneys general"—will work to "fight against regulatory rollbacks" like those Hayes mentioned in Denver.
Hayes introduced the center's latest progress report late last month touting the aggressive actions launched by state attorneys general, including those who have accepted the law fellows.
"This report makes clear the outsized role state attorneys general are playing in advancing and defending progressive policies, regulations and values pertaining to environmental protection, the causes and impacts of a changing climate and the development of a clean energy economy," Hayes wrote in a statement upon the report's release ahead of the conference.
Collaborating—But With Whom?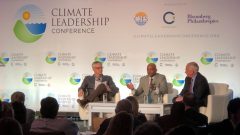 Washington State Governor Jay Inslee turns to Reed Schuler, his Senior Policy Advisor for Climate and Sustainability, when he looks to "collaborate" on climate issues.
"I think it's a really, really important time for partnerships," Schuler said, speaking on a panel covering state climate actions. "It's hard to imagine an issue that, more than climate change, requires that we all act together."
Schuler's top priority, the Paris climate agreement, required a partnership, he said. "It's a partnership that respects both the diversity of different countries being in very different positions but all needing to take the plunge together," Schuler said. That includes a shared goal "to send a signal to industry that everyone's acting."
While Inslee's push for a state carbon-tax plan failed this year, he has traveled extensively as part of several climate initiatives, including the U.S. Climate Alliance. Schuler called the Alliance a Paris-style agreement "at the national scale."
But Schuler isn't accountable to taxpayers and voters, at least not in a traditional way, when it comes to the advice he offers to Inslee or Washington's state government agencies.
Schuler isn't a Washington government employee. Instead, he is paid by World Resources Institute, an environmental non-profit, and does contractual work—"activities and deliverables" in the state's name on behalf of WRI.
On the arrangement between Schuler, WRI, and Washington State, the Wall Street Journal's editorial board said the "special-interest tail is officially wagging the democratic dog." His policy influence is tremendous, according to the WSJ.
The paper highlighted Schuler's contractual obligations.
"According to Mr. Schuler's official job description, his duties include working to 'identify policy ideas,' 'draft policy proposals and briefs for communication to Policy Director and Governor's executive team,' and 'prepare letters, executive orders, and other directives for the Governor's signature,'" the board noted.
Schuler is also tapped for outreach initiatives "among multi-state and international efforts," presumably just like the Denver Climate Leadership Conference.
An Inslee spokeswoman, Tara Lee, said Schuler is "a Washington state employee with the same scope of work, review process and accountability as any other state employee. The only difference is the funding source." Lee also defended WRI's interest in the arrangement as "general support for expanding the Inslee Administration's work to combat climate change," but that the organization had no input on Schuler's day-to-day work plan.
WRI said that such "public-private partnerships enable governments to hire experts to advise them on policies that benefit their constituents."
But Schuler's benefactors aren't limited to the environmental non-profit. A deep-pocketed philanthropy with $9 billion in assets (as of 2016) are picking up his paycheck.
A July 2017 email revealed that Schuler's position was backed by a grant from the Hewlett Foundation "so that WRI could provide support to Washington state to hire an expert analyst to help the state achieve its climate goals."
The email was obtained through an open records request filed by the Competitive Enterprise Institute's Chris Horner.
WRI, though, did not lack the funds to support Schuler. A Seattle Times review of tax records showed that the organization held $108 million in assets in 2015.
A Failure Of Philanthropy
Writing in Nonprofit Chronicles, Marc Gunther assessed the current state of climate philanthropy, and while noting a few notable victories, like the support of Bloomberg Philanthropies for Sierra Club's anti-coal campaign, the overall situation seemed much less impressive.
"If philanthropy is to be judged by its outcomes — and how else should it be judged? — climate philanthropy has failed," Gunther wrote.
Gunther's conclusion isn't isolated.
"The big funders have learned way too little from the success of the conservative movement. They've spent millions and millions of dollars, and the climate movement, such as it is, continues to fail," said Robert Brulle, a sociology professor at Drexel University.
Gunther quotes Edward Maibach, Director of the Center for Climate Change Communication at George Mason University, who concludes that despite spending billions on climate advocacy, "What is missing are the constituents who feel so strongly about this issue that they have created a potent political force."
In other words, while the paid activists garner media attention and the foundations make noise, the votes are not materializing, at least not in the numbers one could expect from multi-billion dollar spending over the past decade.
A poll this week released by Civis Analytics, a polling outfit drawn from Obama's 2012 campaign, shows "climate change" a distant fifth in priorities for a Democratic president and Congress in 2021.