Jim Chmelik, agent for the Western Landmark Foundation and Doyle Shamley with Veritas Research Consulting discussed new strategies for the recovery of Idaho Public Lands in St. Maries, Idaho, on Thursday the 29th. The event, sponsored by the Benewah County Republican Liberty Caucus (RLC) was well attended for such a small mountain town.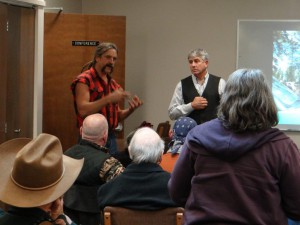 Chairman of the RLC, Hari Heath answers question for a citizen
Chmelik, who is also a commissioner for Idaho County, stated that the private sector is only seeing one side of the story now as portrayed by the media. He emphasized that this effort to get our lands back from the federal government needs being sold to the public through advertising. The Western Landmark Foundation was formed last March with Chmelik as the registered agent. He says when 50 counties have signed up he'll start asking supporters to contribute between $3,500 and $5,000 each toward a legal fund.
Chmelik says the hope is that the legal challenges will pressure the federal government into transferring the ownership of public lands to local governments. The foundation's focus is on Idaho, Washington, Oregon, Montana, Utah, Arizona, Wyoming and New Mexico.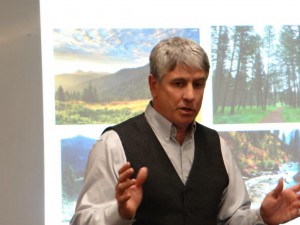 Jim Chmelik agent for the Western Landmark Foundation
He showed slides about how the environmental community wants us to believe our forests are being kept in a pristine manner when in reality Idaho forests are so poorly managed by the federal government that just in Idaho County alone this year, 246 thousand acres were lost to fire most largely as a result of an utter disregard for proper maintenance. In contrast, state of Idaho forests properties have a much smaller incidence of fires, bug problems, and wildlife safety.
The American Lands Council reports that the Federal government spends $16.17 an acre and gets a return of $11.79 an acre for forest lands they manage in Western lands for a loss of $4.38 per acre, contrasted to forest lands managed by the states themselves spending $2.56 an acre and getting a return of $37.16 an acre for a $34.60 an acre profit. This should be an easy sell to Idaho citizens if they were just made aware of real facts.
Doyle Shamley gave a very extensive presentation about Idaho forest lands controlled and managed by the federal government which included a slide stating that "New Regulations abound – 168 major actions in 2015 for Idaho…how many were you notified of or gave input towards?"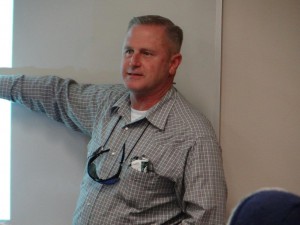 Doyle Shamley with Veritas Research Consulting
Shamley's in-depth presentation on the problems is capsulated quite well by the
American Lands Council
on their website: "The Problem • Record-setting catastrophic wildfires — burning up millions of animals, emitting carcinogenic pollutants into our air, and destroying wildlife habitat and watersheds — are the result of decades of dysfunctional federal bureaucracy. • Locking up access to our nation's abundant resources has needlessly placed America at the mercy of foreign powers for essential materials, such as timber and rare earth minerals vital to national defense, renewable energy, and electronics technologies. • Federal policies are stifling the economic opportunity of western communities and requiring citizens in the East to pay for it. This is undermining every State's independence and flies in the face of our system of liberty and self-government."
ALC POLICY STATEMENT
One of the best resources for clearing up any misinformation is the American Lands Council Policy Statement. The American Lands Council policy statement in regards to the Transfer of Public Lands was drafted and ratified by delegates from 14 states as well as the American Lands Council Board of Directors. The policy statement covers the basics of what we believe and what goals we hope to achieve.
WE URGE THE TIMELY AND ORDERLY TRANSFER OF FEDERAL PUBLIC LANDS TO WILLING STATES FOR LOCAL CONTROL THAT WILL PROVIDE BETTER PUBLIC ACCESS, BETTER ENVIRONMENTAL HEALTH, AND BETTER ECONOMIC PRODUCTIVITY;
WE SUPPORT EXCLUDING EXISTING NATIONAL PARKS, CONGRESSIONALLY DESIGNATED WILDERNESS AREAS, INDIAN RESERVATIONS, AND MILITARY INSTALLATIONS FROM THE TRANSFER; AND
WE SUPPORT EQUIPPING FEDERAL, STATE, AND LOCAL AGENCIES WITH RESOURCES NECESSARY TO PLAN FOR A SUCCESSFUL TRANSITION TO STATE-BASED OWNERSHIP AND MANAGEMENT OF THE TRANSFERRED PUBLIC LANDS; AND
WE URGE MANAGEMENT PRIORITIES FOR THESE LANDS THAT WILL: IMPROVE PUBLIC ACCESS; IMPROVE ENVIRONMENTAL HEALTH; IMPROVE ECONOMIC PRODUCTIVITY; RETAIN PUBLIC OWNERSHIP OF PUBLIC LANDS; IMPROVE EFFICIENCY OF WILDFIRE CONTROL; INCREASE LOCAL INVOLVEMENT & ACCOUNTABILITY; PROTECT USE RIGHTS; PRESERVE CUSTOMS & CULTURE; INCORPORATE FEDERAL AGENCY EXPERTISE; GENERATE SELF-SUPPORTING FINANCE.
The policy statement in its entirety can be found Here.
"By nearly all accounts, our federal lands are in trouble, both in terms of fiscal performance and environmental stewardship." — Property and Environmental Research Center (PERC), Bozeman, MT