— Published with Permission of ConservativeHQ.com —
On the orders of Attorney General Jeff Sessions, Justice Department prosecutors have begun asking FBI agents to explain the evidence they found in a now dormant criminal investigation into a controversial uranium deal that critics have linked to Bill and Hillary Clinton, multiple law enforcement officials told NBC News.
Some establishment news organizations have reported that Sessions "reopened" the investigation, but this would be a misnomer since there really was no "investigation" of the Uranium One transaction during the Obama years.
At issue is a 2010 transaction in which the Obama Administration allowed the sale of U.S. uranium mining facilities to Russia's state atomic energy company. Hillary Clinton was secretary of state at the time, and the State Department was one of nine agencies that agreed to approve the deal after finding no threat to U.S. national security.
On June 8, 2010, Uranium One announced it had signed an agreement to sell a majority stake to the mining arm of Rosatom, the Russian nuclear energy agency.
At the time, Uranium One's two licensed mining operations in Wyoming amounted to about 20 percent of all uranium mining production capacity in the U.S, according to the Nuclear Regulatory Commission, explained the NBC News team of Tom Winter, Pete Williams and Ken Dilanian.
As the New York Times reported in April 2015, some of the people associated with the deal contributed millions of dollars to the Clinton Foundation. And Bill Clinton was paid $500,000 for a Moscow speech by a Russian investment bank with links to the transaction.
Winter, Williams and Dilanian report that a senior law enforcement official who was briefed on the initial FBI investigation told NBC News there were allegations of corruption surrounding the process under which the U.S. government approved the sale. But no charges were filed.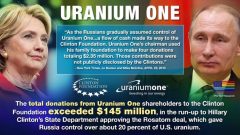 In recent weeks, FBI agents who investigated the case have been asked by Justice Department prosecutors to describe the results of their probe. The agents also have been asked if there was any improper effort to squash a prosecution, the law enforcement sources told Winter, Williams and Dilanian.
Winter, Williams and Dilanian report a senior Justice Department official said the questions were part of an effort by the Sessions team to get up to speed on the controversial case, in the face of allegations from Congressional Republicans that it was mishandled.
In a letter to Rep. Bob Goodlatte, (VA-6), chairman of the House Judiciary Committee, reported by Winter, Williams and Dilanian, Assistant Attorney General for Legislative Affairs Stephen Boyd said Justice Department lawyers would make recommendations to Sessions about whether an investigation should be opened or expanded, or whether a special counsel should be appointed to probe a number of issues of concern to Republicans.
Among the issues of concern is that Uranium One's Canadian chairman, Ian Telfer, used his family foundation to make four donations totaling $2.35 million to the Clinton Foundation. Those contributions were not publicly disclosed by the foundation, the Times reported, despite a promise to publicly identify all donors. The foundation later said it made a mistake.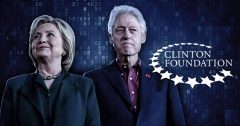 Others associated with Uranium One also donated to the Clinton Foundation, according to The New York Times.
At the time of the transaction, the U.S. ambassador to Kazakhstan also raised concerns in cables to Clinton's State Department that Rosatom was acting on behalf of Russia's military intelligence agency, the GRU, to gobble up uranium mines after Russia felt "squeezed" by having their uranium imports limited by other countries.
However, report Winter, Williams and Dilanian, the Clinton connection with Uranium One goes much deeper than most of the establishment media has reported.
Uranium One became a much bigger player in the uranium market after it absorbed a company run and co-owned by Frank Giustra, a Canadian businessman and Bill Clinton associate, report Winter, Williams and Dilanian.
Giustra was the chairman of UrAsia, a company bidding for uranium rights in Kazakhstan. In 2005, after he had begun negotiating for the rights, Winter, Williams and Dilanian report, he and Bill Clinton traveled to Kazakhstan on separate planes and attended a dinner with the country's president.
UrAsia had soon closed deals for uranium mining rights in Kazakhstan. In 2006, Giustra donated $31.3 million to the Clinton Foundation according to reporting by Winter, Williams and Dilanian.
The value of UrAsia shares increased seventyfold between 2005 and 2007. Uranium One merged with UrAsia in 2007, after which, says Giustra, he sold his shares and left the company — three years before the controversial sale of U.S. uranium mining facilities.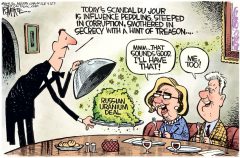 Giustra has donated more than $100 million to the Clinton Foundation and currently sits on the foundation's board report Winter, Williams and Dilanian. Giustra likewise denies that Bill Clinton had anything to do with closing the deal for his Canadian billionaire buddy.
This isn't a fishing expedition or some kind of political witch hunt against the notoriously greedy Clintons.
As our friend Rick Manning, President of Americans for Limited Government noted in a recent statement on the subject, "The Uranium One case has achieved notoriety in recent months as an FBI whistleblower has come forward with serious allegations of malfeasance in the handling of the case as persons affiliated with the deal gave approximately $145 million to the Clinton Foundation, while former President Bill Clinton received $500,000 for a speech to a Russian investment firm involved in the sale."
Attorney General Sessions is to be congratulated for ordering prosecutors to look into these matters to ensure that the public interest and law were followed throughout the process in light of very credible whistleblower allegations and the facts thus far revealed in the congressional hearings on Uranium One.