"Making America Great Again Begins in Idaho," and it began in North Idaho on Saturday night March 4th in Coeur d'Alene at the Coeur d'Alene Resort Hotel where the Kootenai County Republican Central Committee (KCRCC) held its annual Lincoln Day Dinner.
KCRCC Chairman Brent Regan was pleased to announce they set new records for attendance and fundraising.
The dinner celebrated local Idaho businesses and organizations that are making America Great in the "Gem of the Mountains." This dinner provided individuals the opportunity to interact with a number of public, private and community leaders who are working with various leaders in the new administration.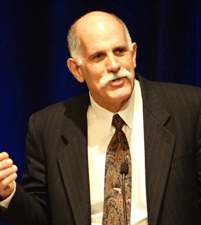 Brent Regan
Chairman Regan graciously expressed gratitude to all the sponsors and acknowledged the significant sponsors of the impressive event by describing their businesses as leading their industries in finding innovative solutions. He actually invited board member and former CEO, Ron Rock of Northwest Specialty Hospital, a $5000 'Platinum' contributor, to speak about their hospital.
Ragan appealed to the assemblage, "The bottom line of tonight is to make those friendships and build those relationships because a storm is coming and you're going to need them."
Speakers included U.S Senator Mike Crapo, Congressman Raul Labrador, Idaho Lt. Governor Brad Little, Idaho State GOP Chairman Steve Yates, Secretary of State Lawerence Denney who led the Pledge of Allegiance, and Keynote Speaker Trevor Loudon author of two published books, "Barack Obama and the Enemies Within" and "The Enemies Within: Communists, Socialists and Progressives in the U.S. Congress." A Must-See: See 'The Enemies Within' full documentary here. Every American, certainly every good Republican needs to see this important documentary!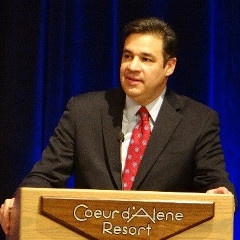 Congressman Raul Labrador
Senator Crapo acknowledged to the gathering that the draining of the swamp in the federal bureaucracy in Washington DC has indeed begun. He also stated that he has never seen the U.S. Senate meaner and more toxic, but then added that he is having more fun every day. He stated, "There's a fight, you all know about the fight, we're standing up to the government."
Congressman Raul Labrador spoke of the core values of Idaho Republicanism: faith family and freedom. He also said that you're not going to drain the swamp in Boise by surrounding yourself with the same alligators that have been there a while, which was a cunning remark when you consider his current bill in Washington DC is for 'Term Limits.'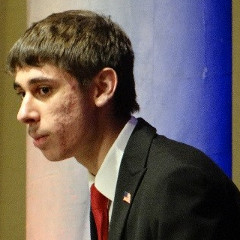 Jason Whitehead
In keeping with tradition, each year the dinner showcases the direction of the future through a young speaker. Home schooled, high school student, Jason Whitehead spoke on five of the amendments to the bill of rights.
Keynote speaker Trevor Loudon, who heralds from New Zealand spoke on the topic 'America: Revolution 2.0.' He opened with making the point that if Hillary would have won the election that life as we know it would be rapidly changing to a tightly controlled socialist world. And he did stress the word world, because so much is dependent on us and how and what we are doing, by the rest of the world. Especially in leadership. Other leaders react to ours and make decisions based on where our leaders are taking us.
He pointed out that we must support President Trump 100% since his success is paramount for the continuation of our country as we know it, since there are so many democrat extremists, establishment republicans, lying media as well as Hollywood propagandists all out to stop him in all he does. Loudon said if Trump fails or the Democrats get back in again in the next election it will be over, because there has already been so much built by Obama and his predecessors to transition us into a socialist member of a new globalist world. He stressed the importance of businesses recognizing our peril and putting some money behind organizations that need to fight this new onslaught from the extreme left. Their fight must be met and not ignored. The left is counting on very little resistance. He stated that the Democratic Socialist Party's membership grew from 7,000 to 18,000 in just the last three months.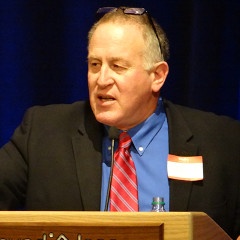 Keynote Speaker Trevor Loudon
Trevor Loudon essentially stated as he does in his documentary 'The Enemies Within,' "First they infiltrated the unions…gaining full control in 1995. Next, they used their bought-and-paid-for-lackeys in the House of Representatives and the Senate to ram through a radical communist/union agenda. Purported Democrat policies such as 'green jobs,' the insane New START Treaty with our so-called 'partner' Russia, socialization of student loans, the massive easing of voting qualifications and consequent vote fraud bonanza, mass educational indoctrination and the gutting of the U.S. military.
"While these enemies of America and their Islamic allies grow bolder and more aggressive, the Democratic Party has been wrecking both the U.S. military and the economic prosperity needed to sustain it. President Reagan's doctrine of 'Peace Through Strength' has been abandoned. If America loses its strength, what will happen to our peace? How many more Americans will needlessly die because 'Enemies Within' that were elected have betrayed them?"
Again, this writer can't stress enough how important it is to see his important documentary that is linked above.
Other $5000 'Platinum' sponsors of the dinner included: Pinkerton Retirement Specialists, Pecussionaire Corp., LCF Enterprises and Regan Designs. $2500 'Diamond' contributors included: MOR Manufacturing and CDA Garbage (Post Falls Sanitation). 'Gold' $1000 sponsors included: Innovation Collective, John Green, Eric Redman, Idaho Forest Group, Kathy Sims/Cd'A Honda, GW Hunter, George Mitchell Properties and AVI Tactical. 'Silver' $500 sponsors included Inland Norwest Bank, Clearwater Paper, Commercial Printing, Preston & Carrie Hawkins, Russell Westerberg, Tom Robinson and Greyhound Park. $250 was contributed by Bank CDA.