I was surprised how many have not heard of Operation Choke Point or understand its effects, so I decided to write a blog about it.
The investigation that Justice Department officials have dubbed "Operation Choke Point" came to light in March 2013. The Justice Department claims to have instituted the program in 2012 to "attack Internet, telemarketing, mail, and other mass market fraud against consumers, by choking fraudsters' access to the banking system." This probe was to stop the fraudsters from accessing consumer bank accounts by as they termed it, choking off their access to the payments system. The effects have been felt by banks, payment processors and companies that tend to make short-term consumer loans over the Internet. Industry officials argued that at least some of the affected online lenders are legitimate businesses and this causes problems of course. Operation Chokepoint is sending out a flood of subpoenas, civil investigative demands and burdensome and costly legal demands to companies that supply processing services. They have also threatened bank officials with increased scrutiny and administrative subpoenas unless they completely sever banking relationships with the companies in these industries.
This operation believes if you increase the legal and compliance costs of serving certain disfavored merchant categories, and payments companies there will be a stoppage to providing service to those kind of merchants. And it's working. Because of this the payments companies across the country are cutting off service to certain types of merchants that in all actuality are legal and providing legal services. It seems that payday lenders have been the most frequent target, and although there are merits to payday lending plus valid arguments on both sides; it is legal in 36 states. It is not as if the payment industry is not trying to investigate fraud itself.
The Electronics Transactions Association or ETA has seen the opportunity to educate all participants in the payments ecosystem about how to identify and remove fraudulent merchants from our networks. The ETA's newly published Guidelines which is a 100 page document and educational curriculum developed by a task force of forty payments companies, is being sent out for benefit of all "ecosystem participants" and in particular to smaller companies many of whom do not have significant in-house resources. This begs the question that if payday lenders are today's target– what category will be next and who makes that decision?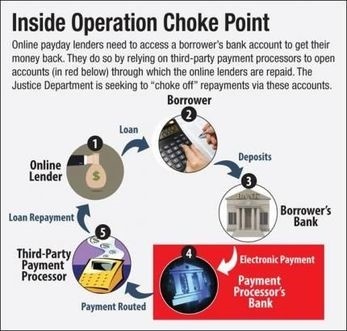 In answer to the above question they are going after people who sell guns. The owner of TomKat Ammunition is a gal by the name of Kat O'Conner. Her business is in Maryland and her bank's payment processing service cut her off and then her third-party payment processor dumped her because she sold ammunition. Take not that this was even though she and her business partner are licensed to sell ammunition by the state. Wisconsin resident Mike Schuetz who is the owner of Hawkins Guns was told by Heritage Credit Union that they do not service businesses that sell guns. Schuetz got mad and proceeded to take a recorder down to Heritage Credit Union in Hawkins. He then began asking questions and recording the answers he got. The regional manager confirmed that the NCUA forced him to close Shuetz's account:
"The examiners from NCUA — that's who governs us, it's a federal government agency — came in and did an exam on everything. There [were] about a dozen [examiners] crawling around the building. They were just hammering us. They came in, looked at our books, looked at everything and said: "Here are some accounts that we feel that we're going to regulate you on." So they kind of put the screws to us as far as what we could and couldn't do….We're not really anti-gun as a company, but our hands are tied."
Brennan Appel of North Carolina-based Global Hookah Distributors lost his bank and payment processor. When asked why Choke Point would target the tobacco industry he said "They don't like us!" His business legally operates in 19 states so he is above board and should have no problems. Under the government's Operation Choke Point, some payday lending businesses lost their access to their long-term bank accounts and because of this they were forced to downsize or close.
Allison Deguisne, owner of Westshore Cash and Loan in Calif. happened to be one of them. She stated last week before a congressional hearing on Operation Choke Point that, "My retirement is gone. It's taken my life savings. I am out of business in the next couple weeks." "If we continue to shut down these industries, they won't have anywhere to go to get loans themselves," she said. She also told reporters that after Wells Fargo choked off her line of credit, she was not able to find a bank that would accept her business. Meet four business owners squeezed by operation choke point.
Bank officials are being threatened with increased scrutiny and administrative subpoenas if they do not completely sever banking relationships with companies in these industries.
Mr. Sprandel, an 18-year police veteran had to retire in 2011 after being hit by a drunk driver while on duty in his patrol car. Sprandel, who is married and has two children, opened an online firearms and tactical business. Since his retirement pension is not 100 % of his pay he decided to take the step of opening a business which was a tactical and firearms endeavor; of course he was hoping to supplement his retirement.
Unfortunately, it came back denied and the bank by voicemail informed him as to why. The message said, "They said they no longer lend to firearms dealers, so that's a new thing for us." This is the second time he has been denied financial services because of selling firearms. Now the retired police officer has called on supporters of gun rights to boycott People's United Bank. I don't blame him one bit. In Voicemail, Bank Says It No Longer Lends to Firearms Dealers
In 2011, FDIC released an internal of 30 "high-risk" industries that it later advised financial institutions to avoid. Among these businesses were those who sold "surveillance equipment, dating services, payday loans, firearms and ammunition, and tobacco!" This list was intended to influence the banks decisions. Later the FDIC issued a statement that this was to be a case by case decision and they only did this due to mounting rage by the public and by congress. A slight problem happens however due to this list because it means "doubling-down" on the program according to Brian Wise, a U.S. Consumer Coalition senior adviser. Now financial services do not know who they can and cannot do business with without incurring the government's wrath.
The conservatives on Capitol Hill are awakening to Choke Point's larger role and they are not just picking winners and losers in the marketplace, but also attacking competitors to the Center for Responsible Lending, which is very similar to an ACORN type financial organization. "The CRL builds its relationships in economically-distressed communities, collecting favors and distributing favors, and this includes collecting federal grants and distributing grants and loans as well as political contributions and hefty lobbying fees". This is government chicanery at its finest.
The FDIC's list of 30 high-risk merchant categories that are currently being pursued by the DOJ.
Ammunition Sales
Cable Box De-scramblers
Coin Dealers
Credit Card Schemes
Credit Repair Services
Dating Services
Debt Consolidation Scams
Drug Paraphernalia
Escort Services
Firearms Sales
Fireworks Sales
Get Rich Products
Government Grants
Home-Based Charities
Life-Time Guarantees
Life-Time Memberships
Lottery Sales
Mailing Lists/Personal Info
Money Transfer Networks
On-line Gambling
PayDay Loans
Pharmaceutical Sales
Ponzi Schemes
Pornography
Pyramid-Type Sales
Racist Materials
Surveillance Equipment
Telemarketing
Tobacco Sales
Travel Clubs
Reports that even porn stars have had their bank accounts terminated for "moral" reasons are related to the "reputation risk" of banking individuals in the porn industry. The IRS is probably salivating about ways to apply Operation Choke Point to conservative and tea party groups thus the logic of Operation Choke Point could be extended to groups not currently targeted. Notably absent from the FDIC's hit list are abortion clinics, radical environmental groups, or, well, marijuana shops, for that matter. Well, it seems they appear to be picking and choosing according to what they feel is right or wrong in their own minds.
The Daily Signal on Mar. 18, 2015 exclusively learned that Sen. Mike Crapo will offer an amendment Thursday to the Senate's budget proposal that would defund the Justice Department's controversial program known as Operation Choke Point. Thank you Senator Crapo from the state of Idaho.
"The Department of Justice must not politicize its enforcement policies, and we must not let Operation Choke Point become an end run around the Second Amendment by threatening the financial security of gun and ammunition manufacturers," said Crapo, R-Idaho, in a statement to The Daily Signal.
The introduction of Sen. Crapo's measure before the Senate Budget Committee will mark the first time since the start of Operation Choke Point that committee members will be forced to go on the record regarding their stance on the program.
The Washington Examiner on Feb. 2016 reported that the House voted Thursday to end Operation Choke Point, the Department of Justice initiative involving banks to crack down on fraud and money laundering. Republicans, who have described Operation Choke Point as a violation of due process, voted in favor of the bill, as did 10 Democrats.
House Financial Services Committee Chairman Jeb Hensarling, R-Texas, said on the House floor before the vote that it was an "outrage" for "legally constituted businesses to have to fear that in the dark of night they're going to be shut down by the awesome power of the Obama administration."
Current updated news from the New American April 16, 2016 states that, "Senators Ted Cruz of Texas and Mike Lee of Utah, both Republicans, have introduced a bill that is an attempt to curtail Operation Choke Point. Lee has a 91 percent cumulative score in The New American Freedom Index while Cruz has a score of 89 percent, making them the second- and third-ranked senators in the Index, which rates the fidelity of those in Congress to constitutional principles as measured by their voting records. Cruz explained his purpose in attempting to shut down Choke Point:
Under President Obama's reign, the DOJ has abandoned its longstanding tradition of staying out of politics and has instead become a partisan arm of the White House. The Obama Administration initiated Operation Choke Point to punish law-abiding small businesses that don't align with the president's political leanings. The DOJ should not be abusing its power by trying to bankrupt American citizens for exercising their constitutional rights.
Lee added, "Our right to bear arms — a right granted by God and protected by the Constitution — is fundamental to the protection of all our other rights. An executive branch bent on taking away this right, through any administrative means necessary, is a danger to all Americans. That is why I am proud to co-sponsor the Financial Institution Customer Protection Act, which would end the federal government's ability to abuse financial regulations to target firearm proprietors like they did during Operation Choke Point."
We must stop the choking of American businesses.