Liberty minded organizations of Benewah County converged on the small rural mountain town of Fernwood, Idaho on Saturday the 26 of September to share ideas and organize more effective planning for the future of the various movements.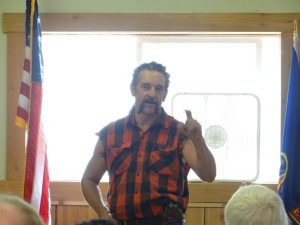 Hari Heath
Chairman of the Republican Liberty Caucus, Hari Heath and Dale Hawkins of the Sons of Liberty and their organizations put together a fine program of introducing the various organizations to one another effecting helpful coordination among them.
Hari Heath stated, "The goal of the event was to have members of the various Liberty Groups in the area meet each other and see how we can work together on common goals. Many of us know some of us, but few of us know all of us here. I was pleased to see many people making new connections and meeting people they had only heard of, but not yet met. On that basis it was a great success, as well as a good opportunity for the community to get together."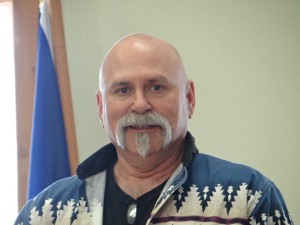 Carl Bergland
Other speakers from The Sons of Liberty, III Percent, Benewah County Speakers Forum, The Benewah County Assembly and The John Birch Society participated in the program. Topics discussed included the need to replace a minimum of 15 legislators with Constitutional patriots, and a Constitutional Governor and Attorney General, the position of the Idaho Militia, Gun Rights, the declining value of the dollar, investing in silver, the agenda of The John Birch Society, the need to improve local education on the Declaration of Independence, the Constitution and the Idaho Constitution, and the looming crisis associated with the planned implementing of refugee resettlement centers in Idaho of non-vetted Muslims. The need to educate others and take action on the resettlement issue was stressed as important and very urgent.
It was acknowledged that the 5th Legislative District, Benewah and Latah Counties have the lowest voting record Senator and Representative in Idaho, both Democrats. Sen. Dan Schmidt has a score of -78 and Representative Paulette Jordan has a score of -74 in the Idaho Freedom Index that scores legislators on their voting records on pro-free market and freedom-oriented legislation.
Also, the one Republican Representative in District 5, Caroline Troy has a paltry score of -12 in the Freedom Index. The highlight of the meeting came when businessman, Carl Bergland from Kendrick announced that he will run against Rep. Troy in this next election.
| | | | | | | |
| --- | --- | --- | --- | --- | --- | --- |
| Dale Hawkins | Richard Deaver | John Farris | Terry Hardeman | Paster Brian Primer | Rachelle Johnson | Victoria Furt |