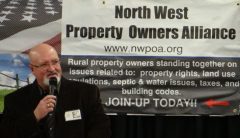 NWPOA chairman Jeff Tyler
The North West Property Owners Alliance held its 5th Annual Dinner in Coeur d'Alene on Saturday, March 3rd. A very nice evening of being brought up-to-date on the most important issues confronting property owners in Idaho was enjoyed by all.
NWPOA chairman and master of ceremonies Jeff Tyler introduced their board of directors and acknowledged the organization's profound appreciation for the dedicated service it has received from its longtime secretary Carla Woempner and announced regrettably that she is retiring from those duties.
Those who have known Carla know that she has been the glue that held much together most of the time with her constant attendance at meetings of interest to the alliance and keeping them and their legal team, headed up by Attorney of Counsel, Norm Semanko informed.
Speakers:
NWPOA ATTORNEY NORM SEMANKO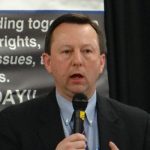 Norm Semanko
Norm Semanko started off mentioning that in Idaho Code the definition of real property includes water rights. He said it's a valuable property right that goes with your land for whatever use you can make of it. He addressed the on-going water rights adjudication that NWPOA along with Pam Secord's North Idaho Water Rights Alliance (NIWRA) and other organizations are battling against federal control.
He stressed the point that the court rulings they have won up 'til now wouldn't have been won without the organizations be named as a party in the court, staying vigilant and supporting the process financially.
KOOTENAI COUNTY COMMISSIONER MARK EBERLEIN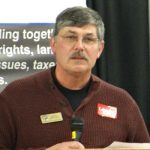 Marc Eberlein
Commissioner Eberlein spoke on his opposition to building codes that have adverse effects on citizens contrary to their protective expectations.
"Most Americans have an aversion to special interest groups and monopolies that create circumstances beneficial to their own interests. It is surprising that a private non-profit California corporation (ICC) with members from private and public sectors which exists solely to create the "code" and which bind standards nationwide hasn't been scrutinized (or challenged or questioned). Why not and what are those reasons? The western states clamor for local control and chide the bureaucracy and liberalism of California. And yet Idaho embraces ICC codes?" – Marc Eberlein
See article in Gem State Patriot from Mr. Eberlein on Building Codes: 'A Building Fell Down'
AUTHOR KAREN SCHUMACHER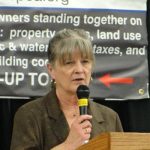 Karen Schumacher
Gem State Patriot News author Karen Schumacher stated Agenda 21 was implemented through federal agencies by President Clinton in 1993 through the President's Council on Sustainable Development. Since that time Agenda 21 objectives have been integrated into federal legislation which has been passed on to state and local governments, laying the foundation for implementation of Agenda 2030.
She stated that the EPA in 2011 signed a memorandum of understanding with the United Nations that was re-signed in 2016 and the purpose was to implement sustainable development goals for 2030. Agenda 21 has 40 chapters and Agenda 2030 has only 17 goals which are more direct and easier to read.
For in-depth information on the Agenda 2030 issue read her articles at GemStatePatirot.com (GSP) Kiss Idaho Goodbye – The rest of the story, So Long, Island Park; Hello, Yellowstone Highlands, and her compelling 6 part series on the effects of Agenda 21/2030 being waged on us beginning with an article titled Comprehensive Wildlife Conservation Strategy (CWCS) to SWAP. Also check out her own website: Idahoans Against Agenda 21.
Schumacher also spoke about the ensuing takeover of Avista Power by the Ontario Canada company named Hydro One an issue she also has recently written about in her GSP article: Canada Now Owns a Part of Idaho. She also mentioned another article written on the topic by David Boleneus in GSP: The Seriousness of the Hydro One Purchase of Avista.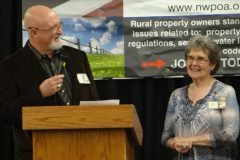 Jeff Tyler payed tribute to out-going NWPOA secretary Carla Woempner for years of dedication to the organization
Jeff Tyler commented after the dinner, "This year's NWPOA Dinner was another success! The response we heard was that everyone had a great time and a great meal while getting some good information.
"I would like to thank our Attorney Norm Semanko, Commissioner Marc Eberlein and Karen Schumacher for updates on the Lawsuit to protect our water rights, Kootenai County and Building code status and how it all ties in with aspects of Agenda 2030. There is so much to do!
"This year we have some new faces on our Board and renewed energy to push on! Regrettably, our stalwart member Carla Woempner is stepping down so we had a nice tribute to her for all the tireless work she has put in for the last 4+ years.

Christi Fauvor Ferguson
We had Christi Fauvor Ferguson beautifully sing 'God Bless America' because our Rights to Life Liberty and Property are God-given rights, not given by government in this Republic.
"This year we will continue to retain Norm during the appeal process and work to inform our Members and our Community on the issues where we can affect and support good government in ways that will reduce taxes, regulations, and fees while striving to limit the growth of government that our Founders warned us about.
Especially, thank you to those who attended and those who support the North West Property Owners Alliance."